The new primary school in Bruges (Bordeaux Métropole), with a large nursery, is at the top of energy austerity and environmental protection, as evidenced by the E4C2 label. In this certification, tested since 2016, the E4 indicates the maximum scale (scaled from 1 to 4) possible in terms of energy savings and corresponds to the qualification of positive energy building. In other words, this new school group will produce more energy than they consume.
Health, nutrition, education: Jean-Luc Gleyze wants a more united Gironde
In particular, thanks to a reduction in energy consumption, made possible by reinforced insulation. Without forgetting a battery of solar panels for the generation of energy. While the C2 criterion marks the highest degree in environmental protection (graduation from 1 to 2). A label that propels this new group of schools (the fifth in Bruges), built entirely from wood, to the excellence section of sustainable development, both regionally and nationally.
10 million euros invested by the city hall of Bruges
This new school represents an investment of 13.1 million euros, of which 2.5 million euros by Bordeaux Métropole, 350,000 by the Nouvelle-Aquitaine region, 308,704 by the Gironde department and 20,000 by the Caisse d' Family. Bruges City Hall is contributing the bulk of this investment, which is 10 million euros. Located in the northern suburbs of Bordeaux, the city of Bruges had just under 9,000 inhabitants in 1990, compared to 19,403 in 2019. The school population has exploded, with 1,887 school children now. This forced the municipality to expand the schools and create new ones.
Representation forecourt of the Frida Kahlo school (Compagnie Architectuur).
"The increase in the number of pupils necessitated the creation of a 5th school. We have decided to take up this project in the most sustainable and environmentally friendly way. Frida Kahlo is thus one of the first school facilities in France with the E4C2 label. We are We are proud and we hope that this project can serve as an example for other cities to show that it is possible to build better and more sustainably while reducing our impact on the planet, and at the same time good quality of service to users." , says Brigitte Terraza, mayor (several links) of Bruges officially.
A year later, the fragile balance of the frugal building in Bordeaux
A contribution of 16 new lessons for 200 students
Inaugurated on Friday, September 2, by the Mayor of Bruges, in the company of Christine Bost (PS), representing Alain Anziani, the President (PS) of Bordeaux Métropole, and Pierre Hurmic, Mayor (EELV) of Bordeaux and 1st Vice-President of Bordeaux Metropolis, the new school group is deployed through five wooden buildings arranged in a square. Quadrilateral whose interior space forms a playground, bordered on the sides by covered galleries that are as many courtyards.
This establishment, which has sixteen classes, including ten primary and six kindergartens, has just completed its first school year with 200 students. A school restaurant and leisure center complete this new infrastructure that will particularly relieve the large school of the neighboring district of Tasta, which began to burst under the pressure of its new contingents of students. The new school group also has new facilities, such as a workshop space, another reading room, two roof terraces (179 and 109 m2) or even an educational garden of 331 m2 and a greenhouse of 36 m2.
Frida Kahlo: Devoted Muse of Mexican Painting
In addition to its own activities, the Frida Kahlo school group is organized in order to be able to organize association meetings. This fifth school group in Bruges bears the name of a great South American artist and feminist. Frida Kahlo was seriously injured in her youth in a tram accident in Mexico City, which dislocated her body. After that, Frida Kahlo became involved in politics and campaigned for the sexual emancipation of women.
An electronics professor at the helm of the University of Bordeaux
As a member of the Mexican Communist Party, it marked local history by welcoming Leon Trotsky, the former leader of the Red Army, under his roof during his exile in this tropical country where he was killed in 1940 with a blow from his ice pick from Stalin. . The Mexican artist, scarred by surrealism, summarized her own journey in a canvas full of spiritual references entitled "Marxism Will Give Health to the Sick".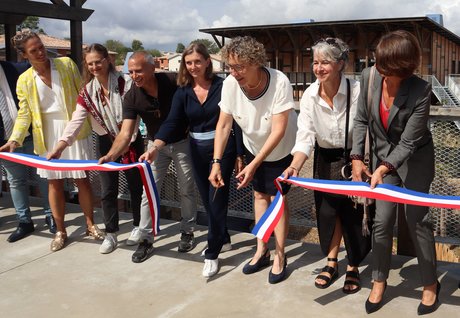 Inauguration of the Frida Kahlo School, with Christine Bost and Brigitte Terraza in the center of the photo in front of the cut ribbon (Bruges Town Hall).
Bordeaux-Lac: the new college in the Ginko . district
The department of Gironde, a very attractive area, welcomes 20,000 new inhabitants each year, which amounts to, as determined by the departmental council, chaired by Jean-Luc Gleyze, an additional 1,000 high school students. Hence the massive investment plan of 670 million euros launched by this community in 2017, which will result in the construction of fourteen new colleges and the rehabilitation of ten others by 2025.
Inaugurated on September 5, the college of Bordeaux-Lac, also in the north of the Metropolis, will meet the educational needs of the new Ginko district where it was built, but also those – much older ones – of Aubiers. Also very ambitious in terms of energy saving and environmental protection, the Bordeaux-Lac college is labeled E3-C2. It is equipped with more than 500 m2 of photovoltaic panels and reinforced insulation.
Energy efficiency: municipalities in Gironde draw up ambitions
An exemplary control of energy and water
This new college is developing a covered area of ​​7,576 m2 for students and staff, including 20 classrooms. It also has an educational garden of 400 m2, 1,300 m2 of shrub beds, the planting of 75 trees and 388 m2 of bicycle sheds. More generally, the County Council has shown that it has managed to regulate all pending increases in the colleges.
For example, in ten years, despite a significant increase in the covered area, namely +40,000 m2, and in the number of secondary school students (almost 10,000), gas consumption has decreased by almost 20% and water consumption by 36%. While greenhouse gas emissions fell by 21%, the ministry calculates. An exemplary illustration of the community's application of its sustainable development strategy as part of the college plan.