Mon 29 August 2022 ▪ 2:00 pm ▪

4
min read – by
Mikaia ANDRIAMAHAZOARIMANANA

As of November 2021, the global cryptocurrency market boasts about 10,500 cryptocurrencies generating a volume of more than $3 trillion. According to Statista, this represented more than the cumulative market valuation of the CAC 40 companies combined. Nine months later, this figure has been divided by 3, or $1 trillion. Where has the missing $2 trillion gone?
An increasingly aggressive bear market towards cryptocurrencies?
Yesterday, Bitcoin.com reported that the bear has taken another bite out of the cryptocurrency market. Over $240 billion was lost in just 13 days. This represents about half of the market's sales on August 19.
The statistics released yesterday also show nothing positive: the capitalization of the global cryptocurrency market is less than $1,000 billion, which is equivalent to a 4% decline in 24 hours. To say that this drop was already -6% a day earlier.
On August 19, Finbold highlighted a total capitalization of the same market worth $985 billion. Bitcoin was down 1.19% on the day, trading at $21,165. Ether had also recorded a 2.97% decline over the same period. In fact, the top 20 cryptocurrencies by market capitalization were colored red.
Jerome Powel, the bummer?
At the origin of this massacre, Crypto Potato points to the speech by Jerome Powel, the chairman of the FED, at the annual symposium in Jackson Hole. On that occasion, he did comment on the FOMC's intentions to reduce inflation to 2%. This would amount to raising Federal Reserve interest rates again in the coming months.
" If the rise in interest rates, the slowdown in growth and the easing of the labor market bring inflation down, they will also have a negative impact on households and businesses.Unfortunatelyvs These are the consequences of reducing inflation. But failure to restore price stability would have far more serious consequences. ' he had stated.
Long before Powell's speech, the stock markets reacted: the S&P500, the NASDAQ, but also those of cryptocurrencies. Of all, crypto assets were the most affected by the announcement.
Bitcoin (BTC), for example, fell 3.5% yesterday to trade at $19,968 per unit. At the time of writing, CoinGecko is trading at $19,834.61, a 7-day decline of 8.3%.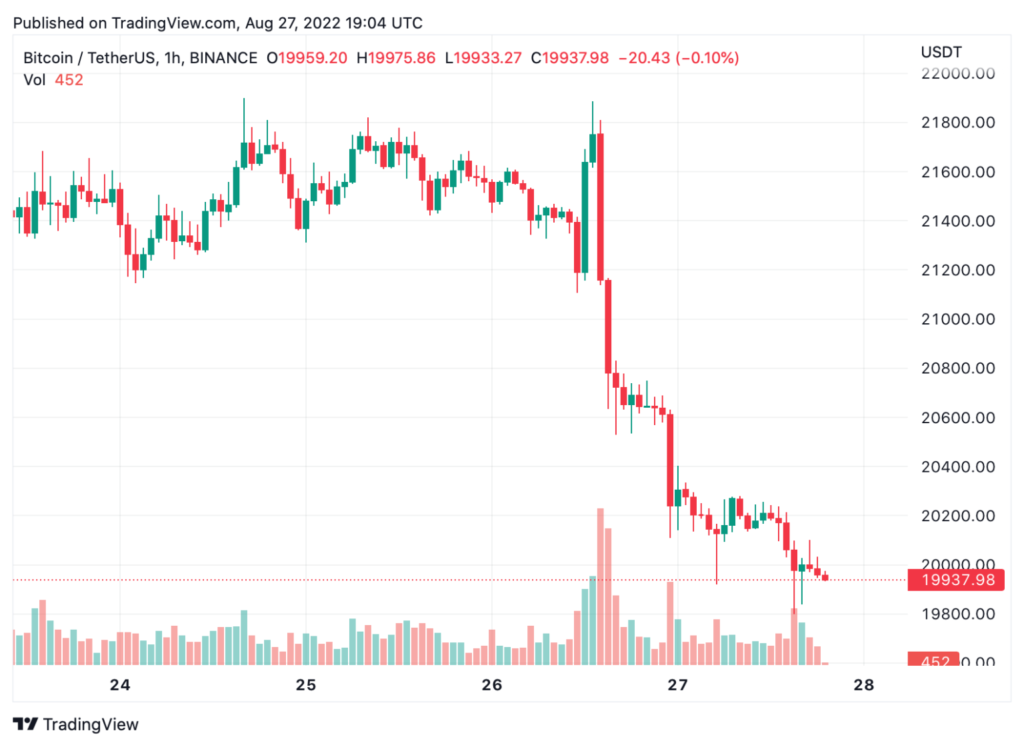 Ether (ETH) also occasionally dropped 5.1%. Today it sells for $1,453.89.
Even Dogecoin (DOGE) and Shiba Inu (SHIB) have paid the cost of these measures announced by Jerome Powell. They trade at $0.061 and $0.00001197 respectively according to the same cryptocurrency data analytics platform.
It makes perfect sense for investors to panic when they see these numbers. But we must not forget the advice of trading experts who believe that the best solution for thebears runis the HODL.
Get a summary of news in the world of cryptocurrencies by subscribing to our new daily and weekly newsletter service so you don't miss out on the essential Coinstand!
The blockchain and crypto revolution is underway! And the day the impact will be felt on the world's most vulnerable economy, against all odds, I'll say I had something to do with it