The son of a gym teacher, Lucas Dollfus was immersed in sports, especially gymnastics, throughout his childhood. After the baccalaureate degree, the native of Nantes enrolled in the only school of stuntmen in France. "I've always dreamed of being a stuntman. When I land in Paris, my dream collapses. This school was everything I hated: an individualistic atmosphere and no professionals in the field to guide us.He then imagined his 'dream school', inspired by an American-style campus, and set up a website.
"I just wanted to show the project to my parents so they understand what I had envisioned. That day they told me to dig and do what it took' says Lucas Dollfus. At just 21 years old, he got a bank loan and set up his project in Villeneuve-sur-Lot, near Agen. In 2016 he moved to Cateau-Cambrésis: "A wonderful opportunity presented itself, a stone's throw from the fields but 2 hours from Paris, London, the Netherlands and Belgium.» A strategic geographical location to attract French and international students, actors, coaches and film crews.
€8 million invested in the past five years
If 1 million investments make it possible to renovate the building, about 8 million euros have been injected over the past five years to transform the campus into a real American school. Today, on this 5-hectare site in Cateau-Cambrésis, there is a main training room, a second multipurpose room, three dojos, a climbing room, a film hangar, an outdoor area, a field for mechanical stunts and motorized machines , or even a large covered carousel with stables and horses.
The 80 students welcomed per course – compared to 40 students in 2016 – and the multiple facilities make Campus Univers Cascade the largest stunt training center in the world. "Film crews come to us looking for talent. We find our students in movies like Fast & Furious 10, ant man, John Wick, Matrix or Mission Impossible", says the campus director.
"A profession in the making"
The program trains all kinds of physical stunts, be it falls to the ground, kicks, heights, acrobatics, car percussion, ejection from moving vehicles, combat or even mechanical stunts. "We can teach them everything the human body is capable of and everything the world of cinema and entertainment needs. Because, despite the boom in special effects and VFX work, we will always need people, it's a craft in the making.Coming regularly from martial arts, gymnastics or parkour, future stuntmen don't all have the same profile. "It's not the same as ten years ago, there are so many different profiles, we also have lambda profiles.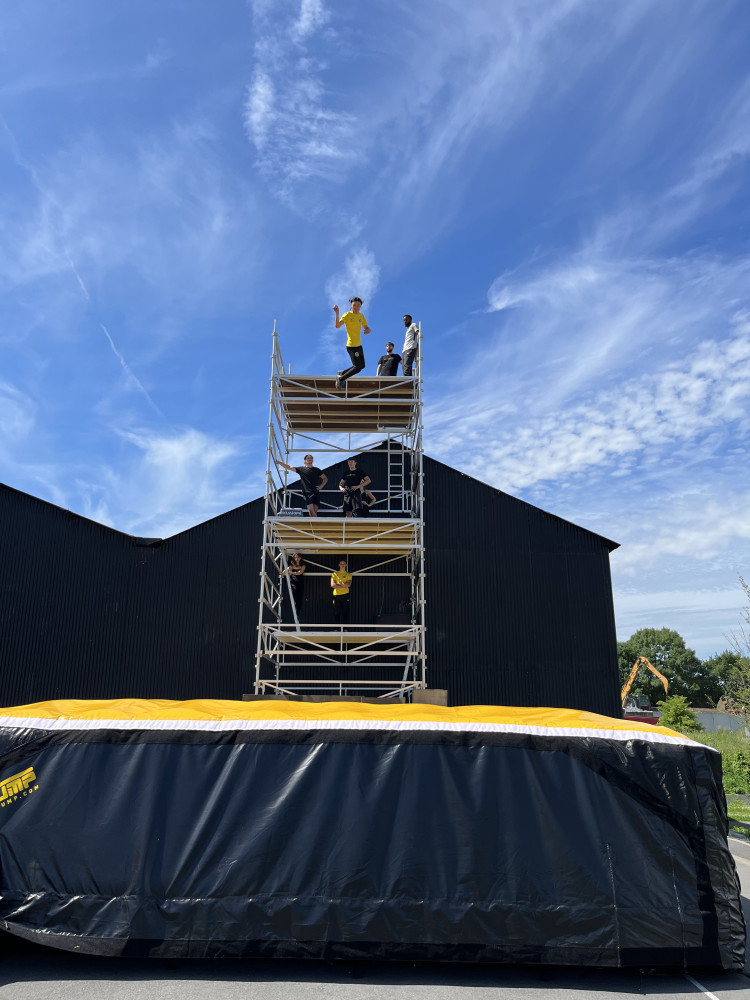 Feminization of the environment
If the courses until now have been mainly French-taught, the campus launched English-language sessions this summer due to strong international demand. "Today the demand is already too great, there is no more room for 2024." Open during school holidays, the campus has a 110-bed boarding facility,something that doesn't exist anywhere else in the worldsays the director, Lucas Dollfus. The twelve-day course costs 1,600 euros all-inclusive. The formula of ten internships spread over two years always attracts more candidates, but management is obliged to select the profiles at the end of the first internship as demand is high.
"HASeach course we integrate 18 new students and select 9. The mood counts more than the skills. The future stuntman has to be versatile, with team spirit and modest because it is a profession where you stay in the shadows." sums up the director of the campus. Today, every internship session has 30% women. "Women have become important in cinema, they have come forward, so inevitably we have more and more requests from women who feel more involved in the medium."

Strategic Partnerships
The campus, sponsored by Nike and Redbull, is also a partner of Parc Astérix and Disneyland Paris, especially in the context of the new Marvel project. "Disney can privatize the campus for castings to find the new Spiderman, for example' Lucas Dollfus slips out. The campus has made a name for itself on the international scene in recent years and does not want to stop there. In two to three years, a new building is to be built on campus to accommodate more students, as well as film crews from all over the world, such as Bollywood professionals attending Cateau-Cambrésis this summer.