Crypto platform Celsius, whose bankruptcy was announced on July 14, is not yet done with the bad news: its accounts show that it lacks more than a billion dollars to repay its debts.
Celsius has just been declared bankrupt. It's already a enough bad news in itself. But analysts have realized another detail, far more annoying: Celsius is said to be missing more than $1 billion.
According to information made public during the bankruptcy declaration (a move heavily regulated by US law), the company would be deeply in debt and would miss more than a billion dollars to be able to repay all of its customers. And that is rightly a cause for concern for cryptocurrency owners.
What's up with Celsius?
In order to fully understand the situation, we must start by recalling some details. Celsius, a very popular cryptocurrency lending platform (it had over a million customers), completely unexpectedly announced in June 2022 that it was freezing withdrawals. Since then, it has been impossible for customers to recover their money that has been blocked in their account.
After this news, rumors of the company's dire financial condition spread, and this proved to be true when the company filed for bankruptcy on July 13. More specifically, Celsius used a procedure called "Chapter 11" that allows it to take advantage of certain benefits under US law.
So even if the company is officially bankrupt, it can continue certain activities, if it gets the permission of a judge. For now, Celsius says it has received regulatory approval to continue to pay its employees a salary (which is lucky for those affected), but its customers are still unable to withdraw their money (which is far less encouraging).
Their concerns were heightened by certain documents made public by Celsius. In its bankruptcy filing, the company released a large number of documents reporting its accounts. By analyzing them, specialists have realized several things. Already the size of Celsius's debt: the platform owes $5.5 billion, of which 4.7 to its customers alone. And especially that of the company's funds, which are only 4.3 billion. Not enough.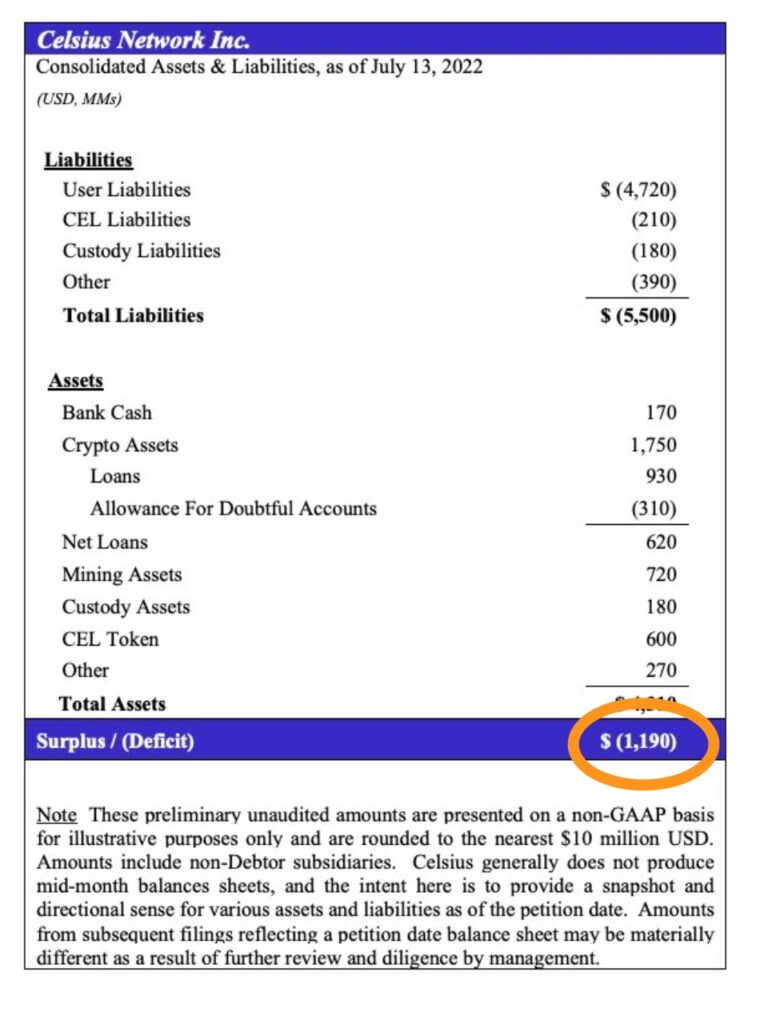 A situation due to "bad decisions"
Celsius would therefore be $1.2 billion short of being able to reimburse everyone, and have many customers fear of never being reimbursed. As things stand, Celsius would have to find other creditors to get enough liquidity to pay off all these debts, and there is no guarantee that it will be possible.
Added to this is another uncertainty: some of Celsius's funds consist of Cel, the platform's native cryptocurrency. However, the value of the latter has only fluctuated since the announcement of Celsius's bankruptcy — meaning the company's cash flow could be impacted if Cell falls sharply.
In some of the documents Decrypt was able to see, Celsius explained how she ended up in this situation and indicated that the number of assets to be managed had grown faster than she expected. " Looking back, the company has made poor asset management decisions ", we can read. It was these decisions that would have put the company in a difficult situation, " with large debts in a declining market environment Bad decisions that now have very serious consequences.