Itself wants to become the neo-bank of the metaverse. But unlike N26 and Revolut, the term "neo" is justified. Because it would not just be a matter of offering a dematerialized card or reduced brokerage costs. The neobank itself is said to be new in several respects. Already new users, who could create an account within seconds. Then, a new market, that of the metaverse, which is starting to absorb the world of video games. Analysis in the words of Elliot Goykhman, the founder.
From the explosion of NFTs to the Self-revolution
The NFT market has exploded in recent years. The year 2021 was that of the discovery of non-fungible tokens by the general public. The market recorded a growth of 21,350%. The year 2022 has also started with a lot of fanfare as the trading volume of NFTs as of May 1, 2022 already reached $37 billion according to Chainalysis, which specializes in blockchain analysis.
A success that is recognized far beyond the specialized realms of cryptocurrency enthusiasts. Historic auction houses such as Christie's and Sotheby's are on board. Those, accustomed to selling paintings by Dutch masters, quickly adapted to enter this new market, even going so far as to accept cryptocurrencies for the most resounding sale in modern history. This is the work "Everydays: the First 5000 Days", by digital artist Beepl, sold for 42,329 ethers, or $69.3 million at the time of the events. That makes him the most highly regarded living artist in the world after Jeff Koons.
Self wants to unleash the power of NFTs in the video game industry
However, NFTs are not limited to artistic markets. Other universes use them, this is especially the case with video games. A market estimated at $222.6 billion by 2024 according to the report Global Games Market Report from NewZoo, gaming expert.
This is where Self, a neo-bank with Web3 sauce, wants to position itself. Its founder, Elliot Goykhman, starts from a simple observation: "Steam (a video game distribution platform, editors note) allows users to exchange their in-game items for Steam Bucks, but you can't send them to an external account, you can't buy McDonald's for yourself ". Other said, the game objects have a value and start to be exchanged.
But this economy has no entry point to the real economy. At least not officially. This is called the gray market. According to a report by BNP Paribas, this market is estimated to be worth more than $20 billion.
A blessing to Self, especially as it is currently akin to a black market with no faith or law. Without a control body, users are at the mercy of all kinds of scams. However, this gray area has a different meaning: there is no competition for Elliot Goykhman. †Sometimes (in a market), there is no competitor, but a different way of working. Thus, the gaming commerce gray market is our "competitor", but it is insecure and full of scammers. We want to become the No. 1 solution to the Play to earn to traditional games.The solution lies in this little known Anglicism to the general public: the Play to earnabbreviated as P2E.
the Play to earn is a game mode born in the minds of cryptopunks who built the crypto and NFT universe. It is a game in which the objects would not be linked to a platform, but would be NFTs. They would have all the characteristics of NFTs: value, exchange, buy and sell. A game Play to earn is therefore a game in which you win not only levels and fictitious rewards, but also objects with a real value determined in markets similar to the stock exchanges. That is, dictated by the law of supply and demand. This type of game has been around for several months, and in different parts of the world, there are some cases of teenagers winning more than their parents.
Self, the neo-bank of the metaverse
This is where Self's positioning gets interesting. Being the metaverse bank for video game NFTs would not only bring in the $20 billion that will pass through this space in 2024, their goal goes far beyond that. It's about bringing security and trust to this market for users. Elliot Goykhman's vision is to create the bank of the metaverse, a $800 billion market, by 2024.
Unlike N26, this neo sofa wouldn't just be an optimized version of a normal sofa. †We are working as a metaverse bank on some really exciting features, imagine: getting a payday loan backed by your loot (items won in game, editor's note), at cheaper rates than those of traditional banks. Or expand players' purchasing power in games by introducing the Buy now pay later in crypto and traditional games. But unlike a traditional bank, we can actually analyze your performance in games through your Steam profile and establish a credit score based on your skills.†
It would therefore be a complete banking offer in terms of services. But also in terms of infrastructure, because that is where the latest idea of ​​Zelf is located, which takes this company from simply innovative to completely revolutionary.
Harness the power of instant messaging
Until then, Self's services are akin to a combination of Lydia, PayPal, or even wire transfer. The only difference is the type of products one can buy, such as video game items and NFTs. By equipping its offer with a dematerialized payment card that is available within 30 seconds, Self is already starting to widen the gap.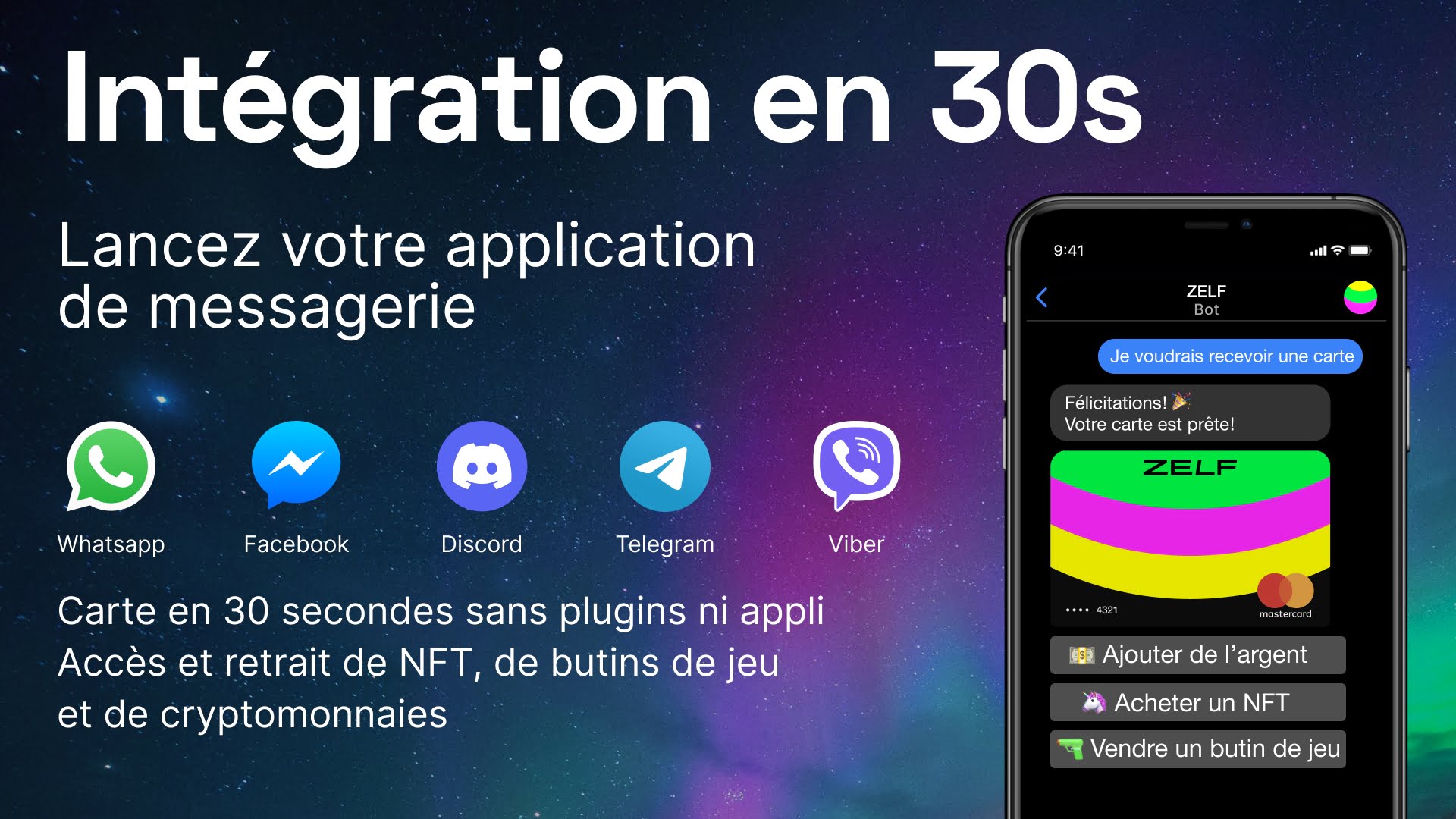 But what really makes the magic of this neo-bank 3.0 is the use of the most widespread means of communication in the world, instant messaging applications. These are everywhere: in 2021, 5.3 billion people had a mobile phone. Among them, more than 3 billion use such applications. WhatsApp, Telegram, Facebook Messenger. Here, Self has deployed to offer an NFT payment, transfer and purchase system. Far from specialized sites, often too complex for beginners, which is a major obstacle to the adoption of these new technologies and the growth of this market.
Elliot Goykhman does not want to stop there. However, if messaging applications are not used by 100% of mobile phone users, we can think that they are all using the phone to communicate. And that is what Self strives for:The ultimate goal is a completely channel-independent banking experience, a truly integrated banking, from the most primitive SMS interfaces to messaging bots and fully AI-powered voice interaction. †
This would make itself the first company in the world to use the power of SMS for financial exchanges. She would also be the first bank in the world to be allowed to lend money thanks to her skills on a video game. As the transition from classic games to format Play to earn will be a condition sine qua non for this success the reward would be great. Developing unique experiences for users, bringing new players to studios lacking innovation, streamlining the transfer of money and most importantly, ruling this new world.