Crypto Crash: Bitcoin Has Been Through Several Cycles And Has Only Come Out Stronger, Claims Diego Vera from buda.com†
Individual markets, including those for cryptocurrencies, stocks or commodities, and the economy as a whole, experience boom and bust cycles. It's like the economy is breathing. There are periods when almost everything rises and others when almost everything falls.
The economic crisis of 2008 ravaged the world for two years. Stock markets in the world's major economies fell by more than 50%. After two years of suffering, they have regained color and now have their momentum for ten years.
In 2000, the Nasdaq Composite stock index fell by 75%.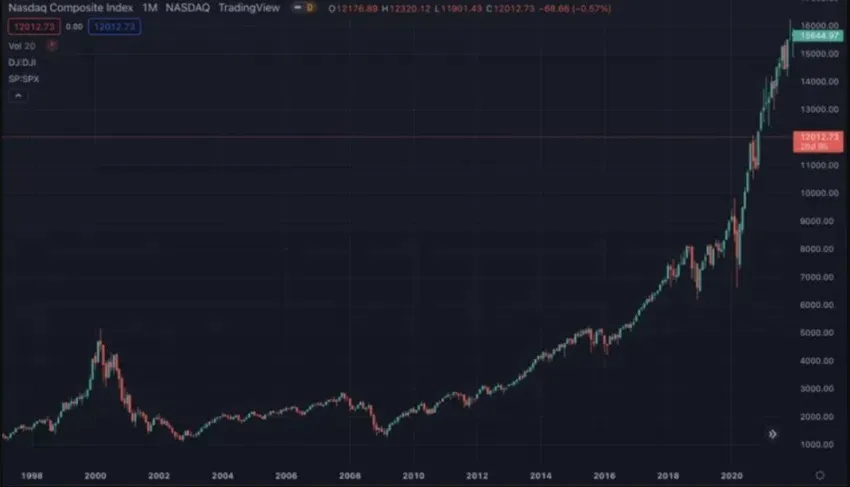 The dizzying drop shown in the first image looks like a simple break in the lower left corner of the second image. Since 2002, almost everything has gone up.
This year, the same index fell by 14%.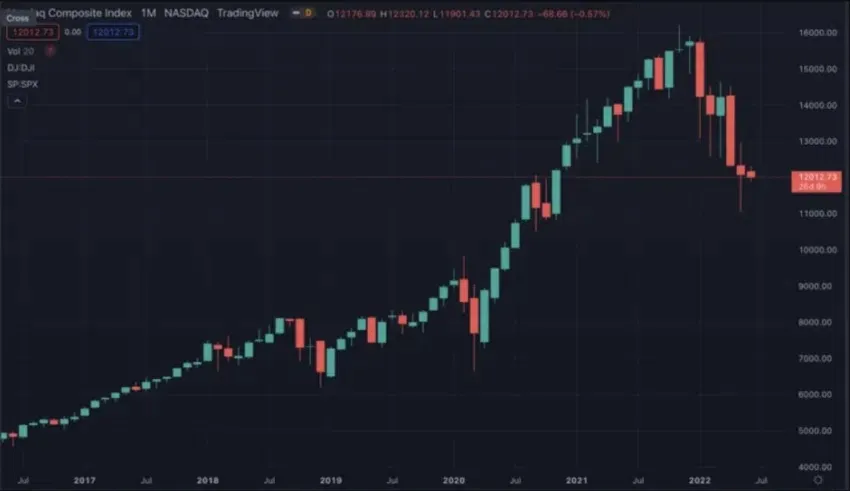 Today, many of us wonder if the current declines in the stock markets (25% since the start of the year) represent a trend that will soon be reversed, or if we are instead facing a more disturbing event like the one that happened in 2008. .
investments
Since the start of the year, we have witnessed a decline in the value of investments across most economic sectors.
Netflix: -67%
PayPal: -55%
Facebook: -44%
Tesla: -42%
Bitcoin: -38%
Amazon: -28%
Nasdaq (index): -24%
S&P 500 (index): -14%
These are just a few examples out of many others. The declines have even reached 90% in some cases.
Why do we insist so much on long-term investments?
We may be witnessing a disaster in the global economy that is more like an earthquake than a shock. However, the most important thing is to know that everything will be fine.
We have a bad memory and often forget the past, but we have experienced this kind of situation before. The world will undoubtedly recover.
In the seventiesthe oil crisis coupled with the end of the Bretton Woods accords (the end of the gold standard) led to a global recession. Therefore, the S&P 500 (another clue) decreased by 50% in one year (1973-1974) to recover 76% in two years and 133% four years later.
In the mid 80's, oil sparked another global crisis. This time, the S&P 500 has lost nearly 30% and gained 226% in 5 years.
2008, the subprime mortgage crisis hit the entire global economy. The S&P 500 has experienced one of its biggest declines: -58% in just under a year and a half. 5 years later, the index's price had tripled from its low. Today, even with the recent market decline, its value is more than 6 times that of 2008.
Crypto Crash: What About Bitcoin?
Bitcoin has already gone through several cycles and has only come out stronger. Historically, indeed, 100% of people who have bought and waited 4 years or more have benefited from their investment.
History doesn't have to repeat itself, but it sets a very good example nonetheless.
The investment horizon is essential. It is very difficult to know what will happen tomorrow. On Wall Street, there are physicists and mathematicians who try to make predictions and almost always end up wrong. But when we extend the time horizon, the trend becomes easier to predict.
About the author

Diego Vera is head of communication at buda.com† He has made it his mission to promote the Bitcoin philosophy and enthusiastically follows the communication transformation we are going through. Every day he learns a little more about the world of crypto.
Disclaimer
All information on our website is published in good faith and for general information purposes only. Any action the reader takes based on information on our website is entirely at their own risk.