Crypto Crash: The collapse of the Terra ecosystem, its native token LUNA and its stablecoin UST can be considered one of the most tragic events in the history of cryptocurrencies. Unfortunately, this is far from an isolated incident.
According to data from Coingecko, in the past week at least five crypto assets considered promising have fallen by more than 90% from their all-time highs (i.e. their highest prices since they entered the market).
Interestingly, some of the best digital assets by market cap have also seen a sharp drop in price. For example, Dogecoin (DOGE) is down 88% from its all-time high, while Uniswap (UNI) and XRP (XRP) are each down 87%.
Crypto Crash #1: Internet Computer (ICP)
A year ago, the Internet Computer (ICP) cryptocurrency was worth $700. Today, it is trading at $8.37, representing a 98.8% drop.
ICP is the original token of Dfinity Foundation, a Swiss non-profit organization. It was launched in 2021 and quickly became a huge success. In less than four days, it became the eighth largest cryptocurrency in the world.
The Dfinity Foundation started developing the project in 2016. The goal was to create a decentralized and scalable cloud-based blockchain to enable data storage and application integration.
The Foundation is led by Dominic Williams, an entrepreneur with a passion for technology who has made it his mission to create a public internet free from the "claws" of Big Tech i.e. companies like Google, Facebook or Amazon.
Crypto Crash #2: Filecoin (FIL)
On April 1, 2021, Filecoin was trading at $236.84. Currently, the asset is worth $8.94, down 96%.
When Filecoin was born in 2017, its creators raised a record amount during the ICO. As a reminder, an ICO or "initial coin offering" is the period during which a project raises capital before launching. Filecoin's made it possible to raise $257 million, which is much more than the $232 million that Tezos collected, which was a record at the time.
Project investors include giants like Sequoia Capital, Andreessen Horowitz and Union Square Ventures.
Indeed, the idea of ​​Filecoin was to create a decentralized network of digital storage, allowing users to easily and efficiently rent the space available on their drives in exchange for FIL tokens.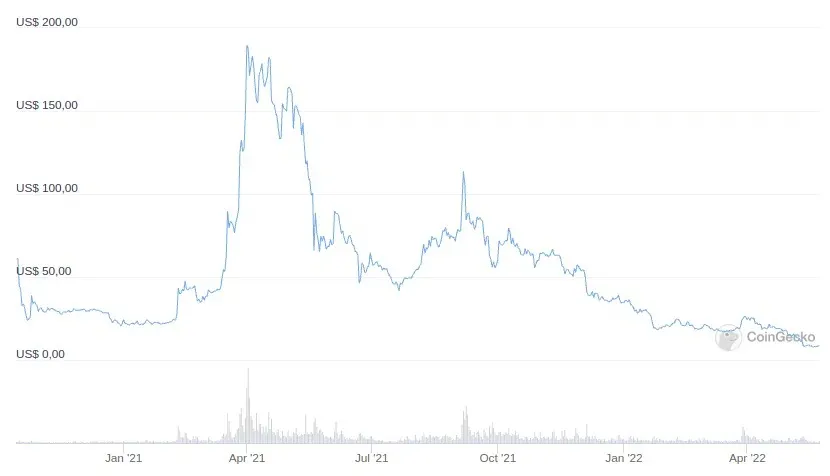 Crypto Crash #3: EOS
On April 29, 2018, EOS hit a record high of $22.71. Today, the token is worth $1.39, a loss of 93.9%.
This blockchain project was one of the first "Ethereum rivals" and managed to raise $4.2 billion during its ICO. After several tests, it was officially launched in June 2018.
EOS has also won the trust of several leading investors, including UK hedge fund manager Alan Howard, Moore Capital Management CEO Louis Bacon, PayPal and Palantir co-founder Peter Thiel.
Unfortunately, the enthusiasm for this project quickly faded. Last June, Block.one, the parent company of the EOS blockchain, agreed to pay $27.5 million in a class action lawsuit over its $4 billion ICO.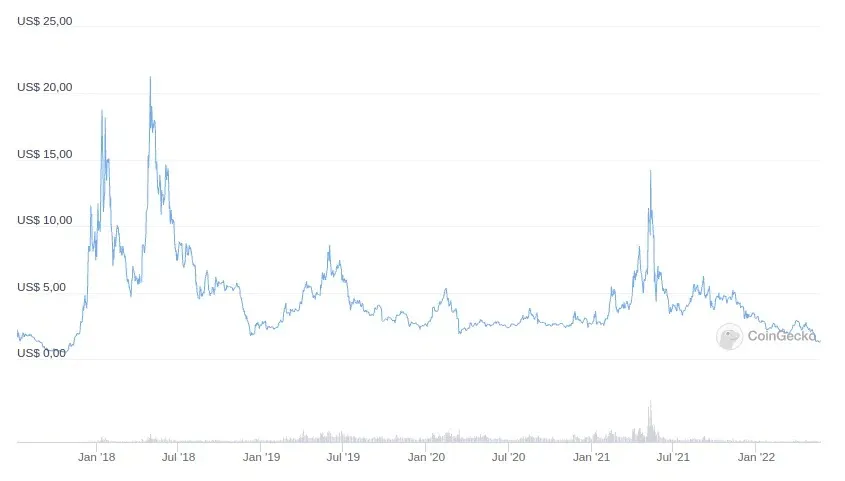 Crypto Crash #4: dYdX (DYDX)
dYdX is the original token of the decentralized exchange of the same name. After hitting a record high of $27.86, the asset is currently hovering around $2.21, down 92.1%.
The price decline started in September 2021 and was partly due to China's ban on crypto trading. However, the trading volume of the dYdX exchange continued to climb, crossing the $10 billion mark.
This increase in volume is mainly due to the crackdown by the Chinese government against the cryptocurrency sector. Indeed, for several months now, the country has believed that any person or company authorizing the trading of digital assets is breaking the law.
The tightening of restrictions forced several companies in the sector, including centralized exchanges that were still transacting over-the-counter in the country, to reduce and then suspend their services to Chinese people. This group of customers therefore started looking for alternative solutions in the market, such as dYdX.
This is because dYdX is a decentralized exchange (DEX), which means that it contains no user funds. Transactions are made through smart contracts based on Ethereum. To avoid high main gas costs, dYdX uses a Layer 2 solution from StarkWare.
However, in April, the token saw a sharp drop when Binance removed the dYdX/ETH trading pair from its platform.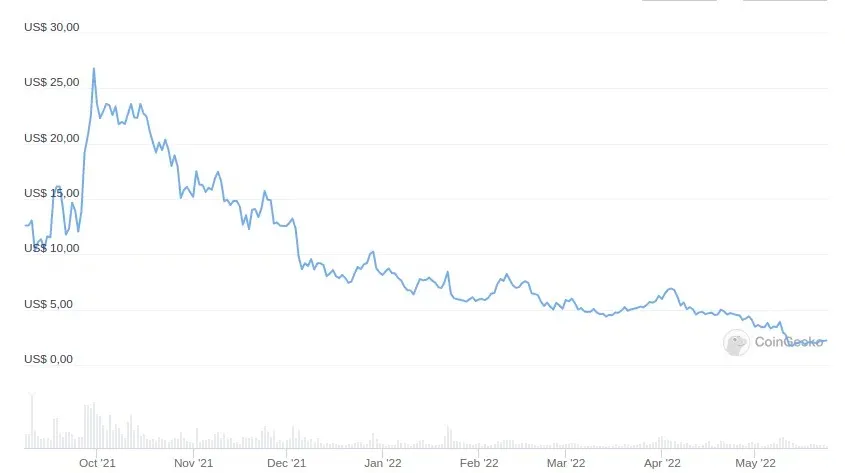 Crypto Crash #5: LooksRare (LOOKS)
LooksRare (LOOKS) is the native token of the NFT marketplace of the same name. On January 20, 2022, the asset reached an all-time high of $7.10. Today it is trading at $0.64, down 91%.
LooksRare didn't see the light of day until January, but it quickly became one of the biggest rivals to OpenSea, the premier non-fungible token (NFT) marketplace. However, several specialists have expressed doubts about the astronomical volumes achieved by the platform.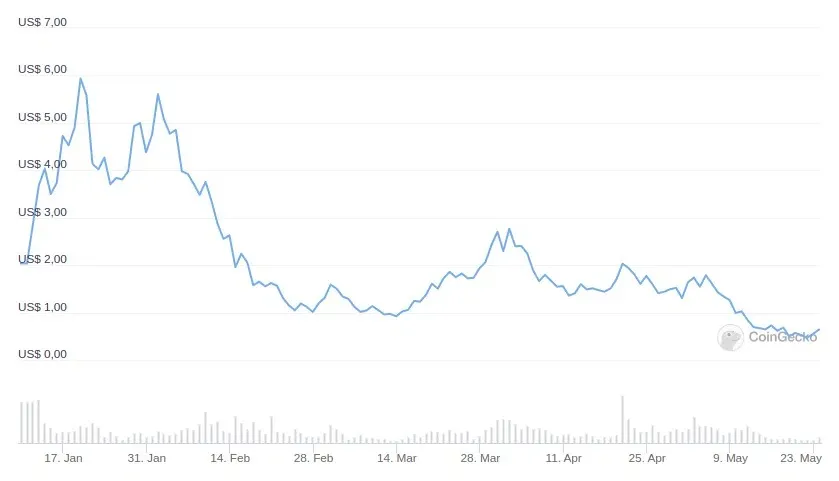 Some believe there were laundry trades. This means that users would have bought and sold NFTs between their own wallets, giving the impression that the platform was handling high volumes.
On January 31, the analytics platform CryptoSlam announced that it had detected more than $8.3 billion in wash transactions on LooksRare, an announcement that sent the price of LOOKS plummeting.
Disclaimer
All information on our website is published in good faith and for general information purposes only. Any action the reader takes based on information on our website is entirely at their own risk.