Sales figures, studio takeovers, annual accounts, developer transfer windows, investments… if these topics interest you, you've come to the right place. We bring you an update on last week's business news.
Summary
Take-Two sets new sales record

Embracer Group exceeds billion euros in turnover, but records major losses

Capcom updates its sales figures (Monster Hunter, Resident Evil…)

Saudi Arabia takes stake in Nintendo

Just in the business news of the week
Take-Two sets new sales record
The period of financial balance sheets continues. After Sony, Nintendo, Capcom, Ubisoft and Square Enix last week, it's time for Take-Two Interactive. The parent company of Rockstar Games, 2K Games or even Private Division (and soon Zynga) has reason to cheer. After a record fiscal year 2020-2021, turnover reached a new high (3.3 billion euros)† Profits have certainly fallen sharply, but this is the second best result in this area.
| Period | sales | Operating profit | net profit |
| --- | --- | --- | --- |
| April 2021 to March 2022 | 3.3 billion euros | €454 million | 400 million euros |
| April 2020 to March 2021 | €3.2 billion | €603 million | €565 million |
Take-Two gives in his balance that the top contributors of the fiscal year are NBA 2K22, NBA 2K21, Grand Theft Auto 5, Grand Theft Auto Online, Red Dead Redemption 2, Red Dead Online, GTA Trilogy, Borderlands 3, Tiny Tina's Wonderlands, and mobile games from studio Two dots . The company is thrilled with the launches of Tiny Tina's Wonderlands, Borderlands spin-off, and WWE 2K22, franchise returned after a two-year hiatus following the failure of WWE 2K20. She could count on it too ever-increasing "recurring player spend" (i.e. in-game microtransactions), representing 65% of total revenue.
As usual, Take-Two took the opportunity to update its sales figures. Released on PS5 and Xbox Series on March 15, the Eternal GTA 5 continues its pace of selling 5 million units per quarter. It now has 165 million sales, out of a total of 375 million for the franchise. Rockstar Games' other flagship, Red Dead Redemption 2, achieved 1 million sales between January and March, for a total of 44 million since its release in October 2018.
The biggest take-two franchises
Grand Theft Auto: 375 million sales
NBA 2K: 123 Million Sales
Borderlands: 75 million sales
Red Dead Redemption: 67 million sales
Civilization: 62 million sales
Bioshock: 39 million sales
For the current financial year (April 2022 to March 2023), Take-Two expects a new record turnover of around 3.5 billion euros, but a net profit decrease of at least 210 million euros. The company can count on the releases of The Quarry (June 10, 2022), Marvel's Midnight Suns, NBA 2K23, WWE 2K23, PGA Tour 2K23 and the new Tales from the Borderlands. Note that Kerbal Space Program 2 has been delayed again and is now due out on PC in early 2023, and on consoles later in the year. Between April 2022 and March 2023, a total of 18 new Take-Two games are planned, including eight mobile games. This is not counting Zynga's titles, whose acquisition should be completed in the coming weeks. Finally, note that Take-Two has significantly increased the number of developers in recent years, from 3,447 in 2020 to 5,079 in 2021 and then to 6,042 on March 31, 2022.
Embracer Group exceeds billion euros in turnover, but records major losses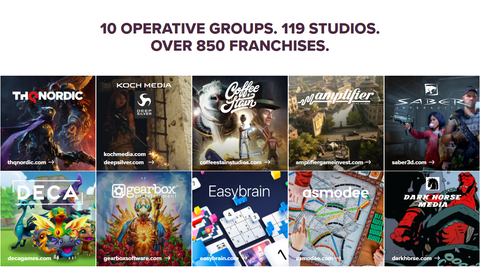 To put it mildly, the 2021-2022 fiscal year (April 2021 to March 2022) was vibrant for Embracer Group, which bolstered its ranks by welcoming Asmodee, Dark Horse, Easybrain, Gearbox, 3D Realms, or even Perfect World Entertainment. Result, in one year the group has grown from 6,325 employees (including 5,115 developers) to 12,760 employees (including 8,586 developers) and turnover exceeded one billion euros for the first time† It is inevitable that with these costly acquisitions, operating expenses exploded to 2.27 billion euros and resulting in an annual loss of approximately EUR 409 million. However, the Swedish ogre doesn't seem satisfied: "It goes without saying that we don't need to make further acquisitions to grow. Nevertheless, we continue to look for additional M&A opportunities to support our long-term growth ambitions"said CEO Lars Wingefors.
Also read: Embracer Group (Borderlands, Tomb Raider…): what is this mysterious company that buys everything?
| Period | sales | Operating profit | net profit |
| --- | --- | --- | --- |
| April 2021 to March 2022 | €1.6 billion | – €354 million | – €409 million |
| April 2020 to March 2021 | 860 million euros | 45 million euros | – €409 million |
Note that these results do not take into account the acquisition of Square Enix Montreal, Crystal Dynamics, Eidos Montreal and many licenses (Tomb Raider, Deus Ex, Legacy of Thief…). Announced early May, should be completed "in the period July-September"† to Lars Wingefors. "The announcement has been enthusiastically and positively received. We see great potential not only in sequels, but also in remakes, remasters, spin-offs and transmedia projects within the group."he also noted. The CEO of Saber Interactive, one of Embracer's subsidiaries, also announced this $300 million acquisition "robbery of the century"†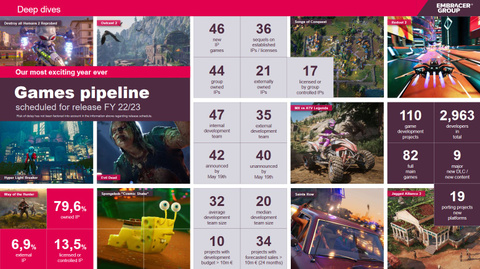 Going back to the numbers, Embracer says the top contributors in the fourth quarter (January-March 2022) were Metro Exodus, SpongeBob SquarePants: Battle for Bikini Bottom – Rehydrated, Wreckfest, Biomutant, Deep Rock Galactic, Valheim, Satisfactory, Goat Simulator and Hot Wheels released. The company is also pleased with the successful launch of Tiny Tina's Wonderlands, which reached sales of $83.9 million in seven days† Conversely, Elex II (released March 1) fell short of expectations, but Embracer expects it to sell well in the long run.
As for the future, Embracer plans to release approximately 25 AAA games by March 2026. out of a total of 223 ongoing projects (including 159 that have not yet been unveiled). Several big games are already planned for the current fiscal year, including the Saints Row reboot, slated for August 23, 2022: "in FY22/23 we expect to release a catalog with at least 3 times the cumulative investment value compared to FY21/22"can we read in the balance†
| Subsidiary of Embracer | Annual sales | Number of employees | Number of studios |
| --- | --- | --- | --- |
| easybrain | €304 million | 271 employees | 1 studio |
| Koch Media | 237 million euros | 2,274 employees | 13 studios (Volition, Flying Wild Hog, Milestone, Warhorse…) |
| THQ Nordic | 164 million euros | 988 employees | 21 studios (Gunfire Games, Piranha Bytes…) |
| Gear box | €184 million | 961 employees | 4 studios |
| Saber Interactive | 161 million euros | 2,671 employees | 24 studios (3D Realms, Aspyr Media, 4A Games…) |
| DECA games | €159 million | 814 employees | 10 studios |
| coffee stain | 62 million euros | 123 employees | 7 studios |
| Asmodeus | 54 million euros | 2,346 employees | 22 studios |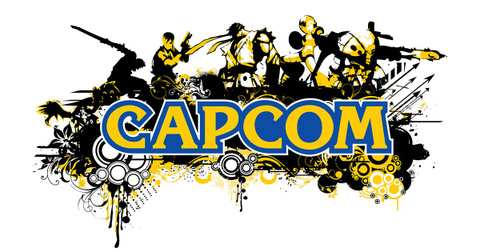 After revealing its financial story last week, Capcom has updated its list "platinum titles"† This includes the publisher's 107 games that have over a million sales.
way ahead of the others, Monster Hunter World has reached 18 million copies sold worldwide on March 31, 2022, with 900,000 additional sales in one year. Not to mention the sales of its Iceborne expansion, which are at 9.2 million (including 1.4 million over the fiscal year)… the fourth best sale in Capcom history. Just beyond that we find the latest installment in the saga, Monster Hunter Rise, and its 9 million copies.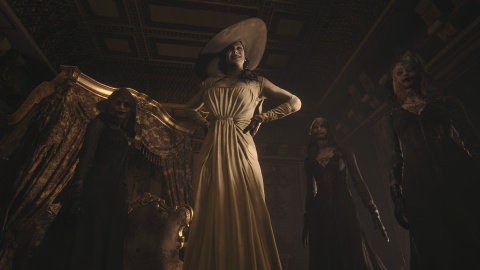 Resident Evil 7, released in 2017, also has a long life† 1 million copies were sold in 2019-2020, 1.5 million in 2020-2021 and 1.8 million in 2021-2022, which stands at 10.8 million. Released two years later, the Resident Evil 2 remake is already at 9.6 million in turn† Less success for the remake of Resident Evil 3, which sold 5.2 million copies in two years. As a reminder, the three titles will soon be optimized for PS5 and Xbox Series. As for Resident Evil Village, it had the best start of the franchise with 6.1 million sales in just over ten months.
During the current fiscal year, i.e. by March 31, 2023, Capcom plans to "different heads" and distribute a record 37 million games (compared to 32.6 million the previous year). Monster Hunter Rise's Sunbreak expansion will land on PC and Switch on June 30, but otherwise the schedule is still unclear.
Saudi Arabia takes stake in Nintendo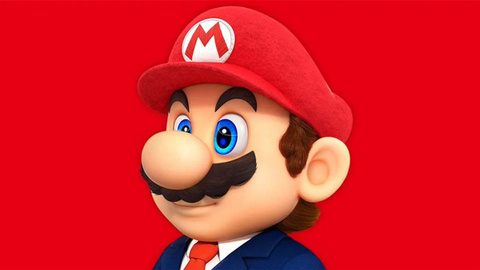 Since the end of 2020, Saudi Arabia has become increasingly involved in the video game market. Acquisition of SNK and the Electronic Sports League, investments in Electronic Arts, Activision Blizzard, Capcom, Nexon and Take-Two Interactive… This week it is in the capital of Nintendo that the Saudi Public Investment Fund (PIF) made its appearance.
As reported Bloombergwe are talking about a investment estimated at three billion dollars† Saudi Arabia thus owns 5% of the shares of the Japanese manufacturer, making it the fifth largest shareholder. According to a Nintendo spokesperson, the company learned the news through the media and will not comment on its individual shareholders.
With nearly $500 billion in assets, the PIF is the key player in the Saudi government's Vision 2030 plan, which aims to diversify the kingdom's economy to reduce its dependence on oil revenues. It is chaired by the controversial Crown Prince Mohammed bin Salman, who is notably accused of ordering the murder of Saudi journalist Jamal Khashoggi.
Just in the business news of the week
Nintendo Switch Sports tops the list of the best physical sales in France for the second week in a row (Week 18). It is ahead of Kirby and the Forgotten World, Mario Kart 8 Deluxe, Pokémon Legends Arceus, and Sifu Vengeance Edition (PS5 version).
Nacon has

Announcement

Which Greedfall has sold two million copies and will be entitled to a successor, Greedfall 2 The Dying World, announced for 2024 on PC and consoles. Remember, Greedfall was published by Focus Entertainment, but Nacon bought the Spiders studio and licensing rights in September 2019.
Final Fantasy 15 has reached 10 million units worldwide since its release on November 29, 2016, making it one of the best-selling Final Fantasy games behind the original Final Fantasy 7 and its 12.6 million copies.
Improbable has sold studio Midwinter Entertainment (Scavengers) to Behavior Interactive (Dead by Daylight) for an undisclosed amount.
The French company Gameloft, known for its mobile games, has opened its 18th studio. Based in Paris, he will focus on PC and console game development. The first title is "an action- and sports-oriented multiplayer experience".
Good start for Evil Dead: The Game, which sold 500,000 copies in five days.