To promote access to digital sectors and respond to talent shortages, the Grande ecole du numrique offers a search engine for IT training in France. Nearly 40 technological professions are represented and job seekers can select various filters, including 100% online offers.
The Great Digital School is reinventing itself. This digital professions training network is expanding its scope by helping everyone who wants to train for a digital profession to find the training that suits them, regardless of their educational level and professional situation. To do this, it now offers a specialized search engine that was completed in four months. Several databases were recovered for this project: those of Mon Compte Formation (CPF), Onisep and the Carif-Oref network. To build this search engine, the GEN claims to have relied on three French Edtech.
First, this data was homogenized and then enriched with additional information thanks to Inokufu's automated semantic analysis technology based on artificial intelligence. Then Mindmatcher stepped in to provide finer processing of information and "allow the search engine to rely both on the digital professions of GEN mapping, but also on full-text search criteria when using "formacodes" in particular. Finally, the Appsearch solution, which specializes in providing APIs, was used to design more complex searches, especially indexed by digital professions and by keywords.
To build this search engine, the GEN claims to have relied on three French Edtech. (Credit: GEN)
A wide choice of IT training courses
People who want to train will find a portal that offers them personalized results, based on their profile. It is possible to search by business family – security, network and cloud, management/pilot, graphical/design interface, data/IA/IoT, installation/maintenance/telecom, digital communication, marketing and e-commerce or even development, testing and by . Thus, users can select a family of transactions or click on a specific transaction resulting from these categories. They can also fill in the location, with a perimeter, check the "100% online" and specify the current level of studies.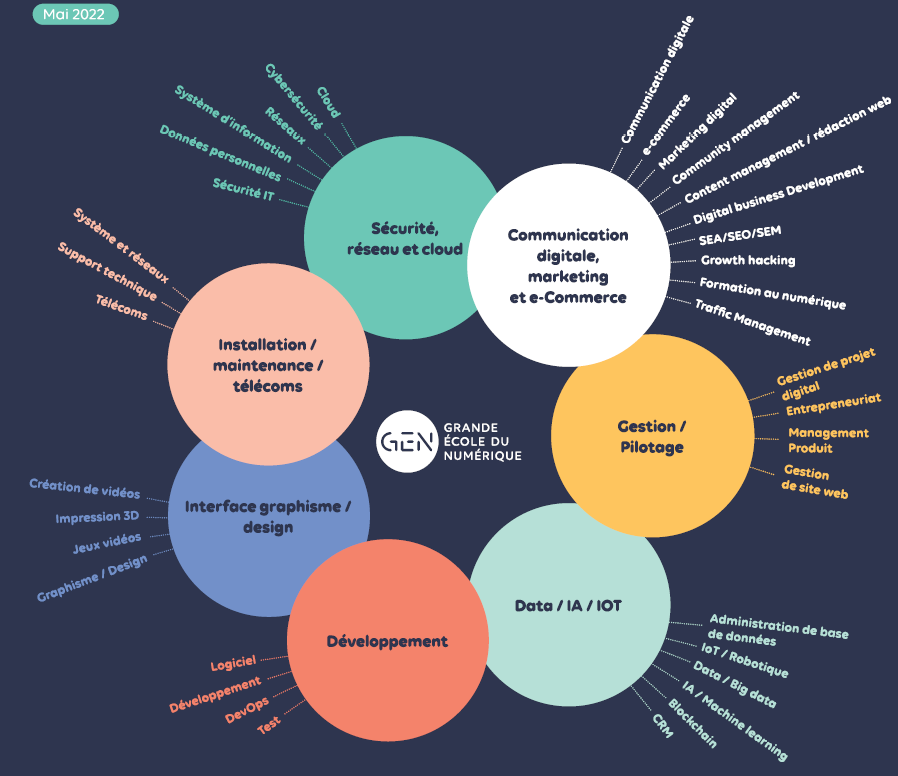 Map of training in digital occupations available on the GEN website from May 2022. (Credit: GEN)
The tool, simple and responsive, allows you to search both on a computer and on a mobile. The RER announces that it offers a catalog of more than 15,000 training courses for about forty represented professions. This search engine is planned to be regularly enriched and from the end of 2022 will offer more extensive "matching" options to offer jobs closer to everyone's skills. Also available on this portal are 70 digital job descriptions, supported by key figures, training observatories and digital skills highlighting the "Top 15" jobs in demand in each region, as well as advice, tools, articles, background and current affairs related to the digital professions in France and their challenges.
Achieving a dual purpose
In addition, the RER announces the establishment of an observatory to contribute to the evolution of the training offer for digital professions. There is also a call for "Innovation" projects, to select and subsidize innovative projects in the areas of recruitment, training, support and above all the professional integration of the target groups of the RER. With these different areas of development, the RER aims to "propel as many people as possible into digital professions to support the economic development of companies that still need IT talent". It also aims to strengthen the social and professional integration of people excluded from work and education, in particular young people, women and residents of priority neighbourhoods.
The health crisis has been an unprecedented vector for corporate digitization, but it has also widened the divide between different social classes. With its program, the Grande Ecole du Numérique aims to offer qualified workers to companies and the first results observed are positive: by the end of 2021, more than 39,000 people with a distance to the labor market have been trained through certified training. The GEN also observes more than 72% of positive releases each year. However, the talent shortage persists. Teleworking, the increased development of e-commerce, big data, cloud and AI are making IT professions more present than ever in companies. "It is essential to train massively in these digital professions and to attract more people to this sector, a vector of jobs," notes the GEN.